BHA History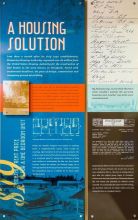 Bremerton Housing Authority (BHA) was created on July 17, 1940 by a resolution of the City of Bremerton. The resolution acknowledged a shortage of safe, sanitary dwelling accommodations for low income persons within the city.
This shortage was primarily caused by the influx of Department of Defense civilian employees and active duty military members responding to the emergent needs for national defense at the Puget Sound Naval Shipyard.
Between 1940 and 1945, Bremerton's population dramatically increased from 15,000 to over 80,000. During this short time period Bremerton Housing Authority built 6,246 homes to meet the needs of shipyard workers and their families who were flooding into the community.
Workers were moving into the area to build and repair ships during World War II, and many of the newcomers had to live in unsafe, unsanitary places, including shacks, old garages and tents. Bremerton Housing Authority immediately went to work. Property was acquired, financing was put into place, and homes were built that so fast that families started moving into Westpark nine months of BHA's founding.
Official dedication of the first development, the 600-unit Westpark community, was held on July 19, 1941. Westpark cost $1,812,300 to build, and rent for a two-bedroom unit was $38 dollars a month. In the next three years BHA built nearly 6,000 more dwellings in Bremerton, including Eastpark, Westpark, Sheridan Park, Qualheim Hill, Sinclair Park, View Ridge, Anderson Cove, and Dormitory Apartments.
Many amenities were provided in these new communities, including schools, playfields, community centers, and garden space. Coordinators were hired to organize activities such as fishing derbies, softball games and sewing classes. Quincy Jones, a distinguished music composer and producer, lived with his family in BHA's Sinclair Park development and learned to play the piano on a piano in the Sinclair Park community center.
In the years after World War II, when the demand of affordable housing for shipyard workers was diminished, many of the dwellings built by BHA were sold to private individuals, transferred to the U.S. Navy, or moved to locations like the University of Washington and the Hanford Nuclear Reservation.
By the early 21st century, the only original BHA-built property from the World War II era that was still owned and managed by BHA was Westpark. It's useful life, never intended to be beyond "the duration", meaning the duration of the war, was long passed. Community stakeholders and residents worked together to create a bold new plan to revitalize the neighborhood.
With the help of a $20 million dollar HOPE VI Public Housing Revitalization Grant from the U.S. Department of Housing and Urban Development, the plan was put into action beginning in 2008. Residents were relocated and existing 1941-vintage homes were deconstructed and recycled. Replacement affordable housing was built, along with owner-occupied single-family homes, a new grocery store, and public open spaces were improved, creating a walkable community. On the 83-acre Westpark site rose Bay Vista, Bremerton's newest neighborhood. When completed, this project will include additional single-family homes, multi-family residential units, restaurant, bank, community health clinic, and other commercial buildings.
Bremerton Housing Authority is not a federal agency, nor a department of the city. It is a separate public corporation, deriving its powers from state law. BHA is not a part of city government and receives no money from the city or the state. Its federal relationship is a contractual one which makes it eligible for operating funds and administrative fees for the provision of affordable housing. BHA is responsible for its own income and expenses, and relies on rents, fees for services, and subsidies for its income. BHA staff are not city, state or federal employees, but are employees of the Bremerton Housing Authority.
BHA has an annual budget of $174,000,000 plus and approximately 75 employees. Since 2006 BHA's executive director is Kurt Wiest.
The executive director reports to the Board of Commissioners which is made up of six members. These six members, with the exception of a resident commissioner, serve five-year terms, with the possibility of one additional term; the resident commissioner serves a two-year term, which may be extended for an additional two-year period. All commissioners are appointed by the Mayor of Bremerton and confirmed by the City Council.