Significant BHA Milestones
July 17, 1940
BHA created by ordinance of the Bremerton City Commission
1941
BHA central office is constructed and occupied at 110 Russell Road
July 17, 1941
Westpark, BHA's first project, is completed for occupancy by shipyard workers and their families
1941 to 1945
BHA constructs 6,246 residential dwellings in Bremerton including Sheridan Park, Sinclair Park, View Ridge, Anderson Cove, Westpark Eastpark, and Qualheim Hill
1945
Westpark and other BHA developments begin to house military families; at the conclusion of the WWII, discussions begin on disposition plans for dormitories and demountable projects, like Sinclair Park and Qualheim Hill
1943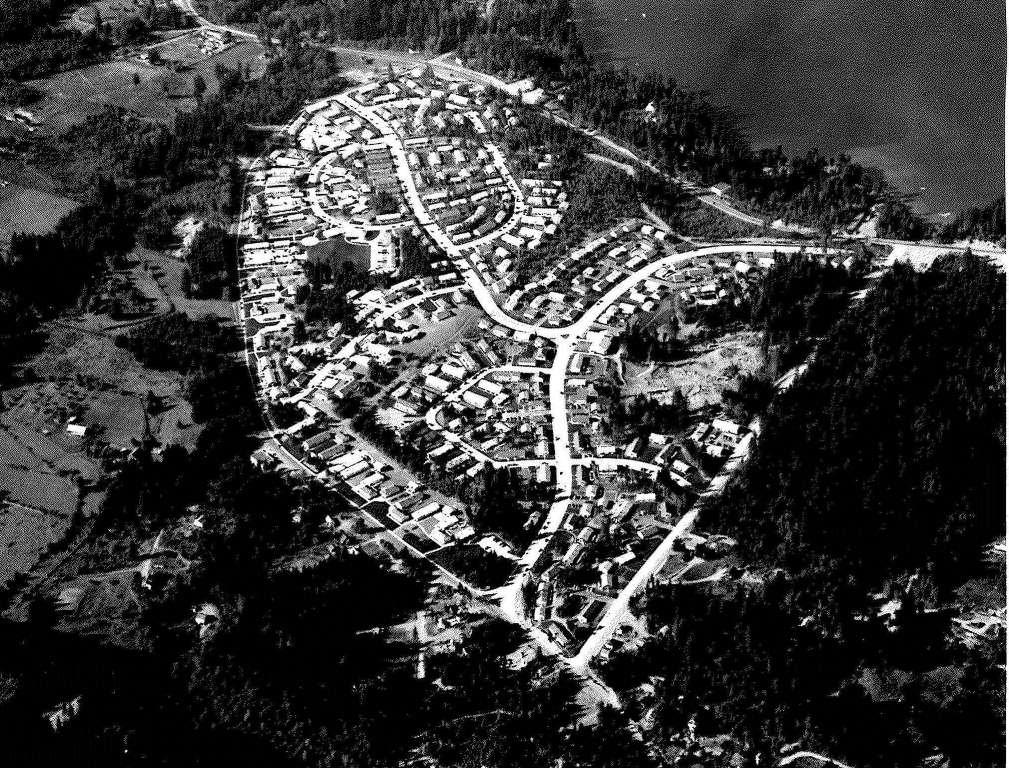 Aerial view of Westpark development from early BHA annual report, c. 1943
1952
Westpark occupancy is open to the general public
1947 to 1955
BHA transfers ownership of Anderson Cove, Sheridan Park, Eastpark, Sinclair Park, Qualheim Hill, and View Ridge to a variety of groups including the US Navy and private owners; some demountable dwellings are moved to the University of Washington; duration dormitories are demolished to make way for Olympic College; Westpark remains BHA's only housing development.
1970
State Highway 3 construction removes a number of Westpark houses
1973
BHA signs a contact with the U.S. Department of Housing and Urban Development (HUD) to convert Westpark to the federal Conventional Low Rent Public Housing program
1974
BHA begins participation in HUD's Section 23 Leased Housing program, the forerunner of HUD's Section 8 program, and begins providing rental subsidies from HUD to private landlords. Searle Street Apartments, located in Westpark, are completed for occupancy for seniors.
1978
The Firs, located in Westpark, is completed for occupancy for seniors BHA assumes management of the Mason County Housing Authority BHA begins providing Section 8 rental assistance to low income households in cooperation with local landlords Provide management to Narrows, Hallet House, and Village Green
1981
Tara Heights completed for occupancy
1985
BHA begins participation in HUD's Rental Rehabilitation program and receives an allocation of Section 8 vouchers
1994
BHA assumes management of Section 8 vouchers in Lewis County
1995
Sylvan Pines (40 Units) senior home ownership unit in East Bremerton BHA begins administration of Section 8 Certificates and Vouchers for the Kitsap County Consolidated Housing Authority
1998
Congress passes the Quality Housing Work Responsibility Act (QHWRA) and the Section 8 Certificate and Voucher programs are consolidated into the Section 8 Housing Choice Voucher program
1999
Commissioners conduct a community-wide affordable housing needs study; BHA completes conversion of all Section 8 Certificates to Housing Choice Vouchers Contract Management Services, a division of BHA, is formed to compete for Performance-Based Contract Administration (PBCA) work for HUD in the state of Washington
2000
Contract Management Services (CMS) is awarded the PBCA contract for Washington
2001
BHA initiates an eight-month stakeholder process to redevelop Westpark
2003
Westpark vision of the future completed
2004
Tamarack acquired and added to BHA portfolio CMS enters into subcontract with the Hawaii Public HA to perform PBCA tasks in Hawaii
2005
CMS is awarded PBCA contracts for the states of Utah and Nebraska BHA purchased 2nd floor offices in the Norm Dicks Government Center (NDGC)
2006
BHA ends management of Lewis County Housing Choice Vouchers
2007
Bay Vista Commons opens for occupancy BHA receives HUD relocation vouchers to assist with moving residents from Westpark
2008
Relocation of residents out of Westpark begins HUD awards BHA a HOPE VI Public Housing Revitalization Grant of $20M
2009
CMS subcontracts with the Housing Authority of the City of Los Angeles (HACLA) to perform PBCA tasks in So. California BHA ends management services for Mason Co. HA and Jefferson Co. HA; Housing Choice Vouchers in Mason Co. are transferred into BHA's portfolio Demolition of existing Westpark homes begins and construction started for the new Bay Vista community
2010
Last residents of Westpark move out and BHA central office at 110 Russell Road is demolished. BHA central operations move to temporary location at 4040 Wheaton Way
2011
The Summit and Bay Vista South open for occupancy Winfield apartments acquired and renovated
2012
Shadow Creek acquired and Bay Vista West opens for occupancy
2013
BHA moves into their new permanent central office at 600 Park Avenue
2014
Contract Management Services, a division of BHA, enters into a contract to provide performance-based contract administrative services (PBCA) tasks in Georgia and Illinois
July 17, 2015
BHA celebrates 75 years of strengthening communities in Bremerton and across the US
2016
Wright Court acquired and renovated Charter House acquired and renovated BHA rolled out a new website in September 2016. The new website transitioned BHA from an outdated web presence to an efficient and secure website built on an industry proven content management system
2017
Case Del Sol acquired and renovated
2018
BHA partnered with the City of Bremerton to create a unique Rental Assistance Program to address gaps in housing affordability for working households BHA completed the sale of the last two remaining parcels of land at the former West Park public housing project BHA incorporation of all property management functions in-house October 1, 2018
2019
BHA upgraded to Yardi Voyager 7S May 2019. The conversion from Yardi Voyager 6 to 7S significantly enhanced BHA's ability to manage programs and reporting as a Housing Authority BHA contributes $3.1 million for Pendleton Place, a 72-unit permanent supportive housing developed for chronically homeless individuals